Large space DSLR & Camera backpack for outdoor hiking in 2020 Autumn
Autumn has come, it's time to take adventure with your camera.

When packing your gear, no matter you prefer to travel light with simplified camera attachments, or you like to bring the full set camera gear, finding a right camera backpack can make moving with your gear possible.

When we are buying a camera backpack, we won't look only at the protect function, it's waterproof-resistance or not, the price, whether this camera backpack can make it easier to carry our gear is more important.

Gone are the days where you're walking around with the camera strapped around your neck. You may have a tripod, portable jib, possibly sound equipment, a DSLR, additional lenses and all sorts of odds and ends. For this kind of equipment, a regular camera backpack just won't do.

Before you make a decision of which backpack you buy, you have to take several factors into consideration, the kind of camera you have, how many lenses you are planning to take for travel, what other gear you want to take except of camera gear. You have to know what performance you want from the backpack and what you plan on using it for. You want have a backpack have a stronger waterproof function? You want buy a backpack designed for hiking to carry some clothes?

The more you know about how you'll be using the camera backpack, the easier selecting one becomes.

There are Enduarx camera bags designed for hiking with your gear, if you want to know this detailed performance, let's get started.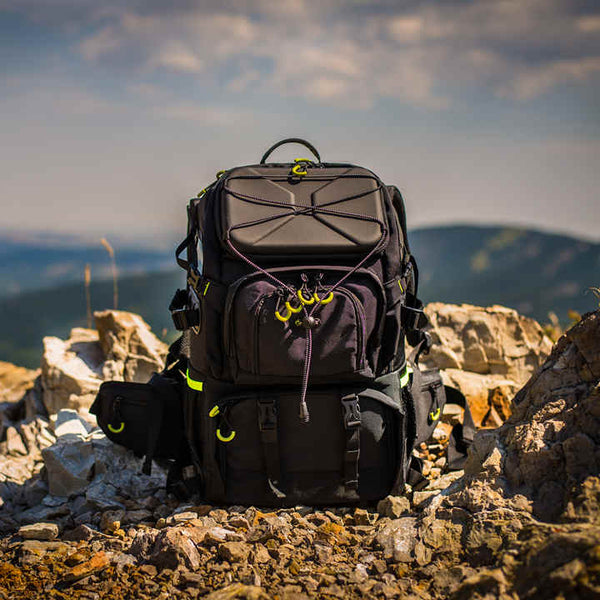 Strong shoulder strap & adjustment strap
Endurax constantly takes customer feedback and suggestions into product improvements, and we got some suggestion on the shoulder strap as well as adjustment strap, so we have upgraded the stitching of ED-010 camera backpack, specially reinforced the bearing point of them. For photography, the bearing point of backpack can become more reasonable-designed, which can reduce the pressure brought by heavy backpack to some extent. Besides, we design both a chest and waist wraps that way feels better when going on hikes, It also makes it hard for anyone to snatch the backpack off your shoulders (if you're worried about that).

Extra Large
If you are a videographer or photographer that may tried a lot of different options, the performance of this backpack still would be incredible. Endurax hiker camera backpack is large enough to fit two pro-sized mirrorless cameras, 6-8 lenses, 2-3 flashes and tons of small pockets to pack photography equipment, chargers, and power cables inside, you can also strap on small stands and lights if needed. Except of these, there are has rooms for tablet & 15.6 in laptop compartment. There are two large compartments, but you can remove the barrier to make one large compartment, there's a great extra hard case on the front for protection, and it even comes with an extra small camera carry bag to give an extra loadable space.
Tripod System
There are three ways to attach your tripod externally, you can put your tripod on either side and it, the number of portable tripod is up to two large size tripods.

Protect function and water-resistant
The net weight of this Endurax Extra Large Camera backpack is almost 7 pounds, with The top notch material quality and durability, which means that this backpack is not easy to be broke by the outside force, it may fall into river accidentally, or brush some gravel, but The outside materials is very good, this backpack's cotton material protects it from them, A PVA armored front panel securely holds digital equipment and sensitive gear. If you have fragile items, you can place them into the hard shell case.

When it comes to the details of this backpack, you can see clearly that the zippers are smooth, and the zipper handles are easy to get to, the grab handle in the middle is strong.
In rainy day, you don't nee to care too much negative message, Dividers inside the bag are good quality and protect my gear well, and I haven't had any issues with moisture making it inside the bag either when it rains. Endurax also featured a rain cover for rainy.

This Endurax Extra large camera backpack are very high performed that you can use at least five year, which can fit everything you want to bring with (which is almost certainly far more than I need to bring).
Leave a comment