Under $65, This Backpack Can be The Most Affordable Bag for Photographers
Whether you're an amateur who only uses their camera while on holiday once a year or a full-time professional shooting from dawn until dusk every day, one of the first accessories you should think about buying is a good quality camera bag.

However, with a number of different bags and styles to choose from, finding the right one can be a little overwhelming at times, different prices, different functions and etc, lots of factors are affecting your decision.

When it comes to choosing a camera bag, questions you want to ask yourself are: do I need a camera bag? What equipment I am you going to be carrying? How big a bag do I need? Do I want to carry all my gear or just a select kit? Where will I carry my bag and will it be comfortable in my environment? Finally, what is my budget?

The First and foremost of a camera backpack is protection. If a camera bag doesn't do this simple task, your camera gear is at risk of getting damaged. For a backpack that under $100, Endurax Waterproof Camera Backpack for Travel with Hardshell can be one of your optimal choices.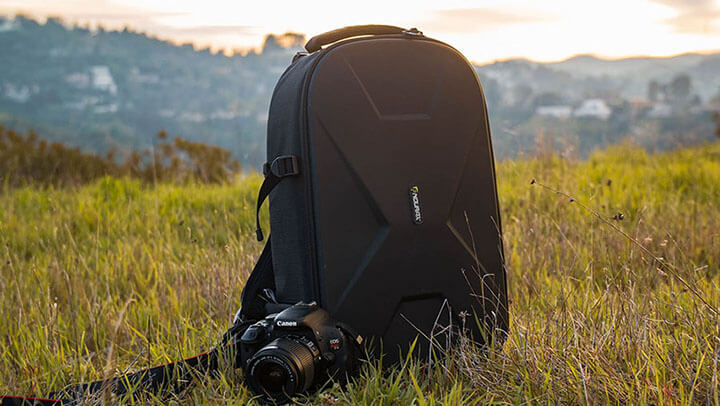 Weight

With Multi-function adjustable internal dividers, the weight of this 240L version is about 3.2 lb (1.45 kg). This is unexpected light for a backpack with many features, it definitely isn't heavy.
It's such light weight that you don't need to distress about how you intend to pack it, and whether you need it to be within any strict airline carry-on luggage allowances, it fits the standard to be used as carry-on luggage, and you should be fine.

Fit
It's important for the best photography backpack to be comfortable to carry, even when fully loaded with your camera gear. Fortunately, this one hits the mark.
Padded shoulder strap back and back cushion applied super foam padded layer. Which are comfortable that you won't get tired when carrying your gears, even when fully loaded, it feels great on the shoulders and back, and adjusting things while the bag is on your back is simple.
Besides, super foam padded layer can provide best buffer and protection to your internal stuff against shock and drops.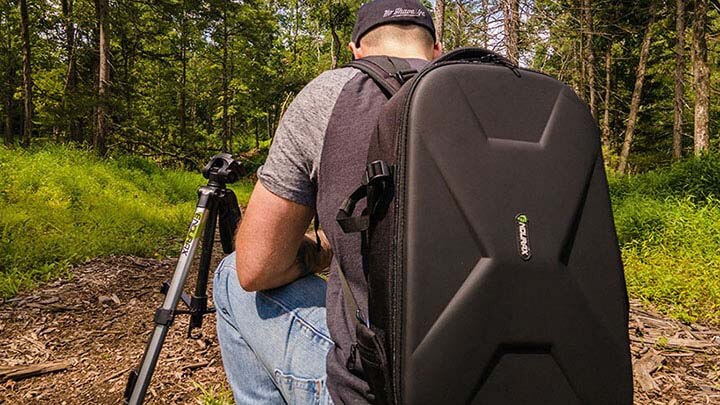 Capacity
If you're doing lots of travelling, and you know you need most of your camera gear with you, then a waterproof camera bag really is a wise choose.
Our waterproof backpack inside are split up into a number of protective compartments to carry multiple lenses, laptops and tablets, studio lights and flashes, gimbals, tripods, audio recorders and a whole heap of other accessories too.
The 24L backpack can easily fits 2 full-size cameras and 4-5 lenses, with lots of pockets and pouches for accessories. For example, I managed to fit a Fujifilm X-Pro3 and a handful of the best Fuji X lenses to go with it (all primes), and still had room for plenty of small accessories and my sandwiches.
If you do a good amount of photo editing after photography, you probably want your laptop. Endurax took into consideration for you and designed a separate compartment to put your laptop inside with protection.
There also isn't a true laptop sleeve in the backpack. There's room for a tablet, which may be enough for you, but ,

Hardshell
Whether it's traveling abroad or taking a day trip, it's important, as a photographer, to find the right backpack to fit camera equipment. When buying a hard shell camera backpack, it's obviouly that the equipment you carries must be pretty well that you need a camera backpack that can provides comprehensive protection. For photographers, it's great to find the best bang for your buck with storage and comfort.
Endurax best hard shell camera backpacks provide ultimate protection for your equipment due to its water-resistance, extra interior padding, and protection of other equipment. The backpack's outer and inner shell has water-resistant coatings to ensure it keeps your gear dry all day. For more extreme weather, you also have the protection of a removable rain cover that is fully waterproof!

Tripod system
A good camera backpack will have some method of securing your tripod to the outer side, Endurax designed a strong strap with clips to enable you carry tripod. If you need, this strap clips are also perfect to carry your hiking poles and water bottles.
Leave a comment